Preferred Options Paper
The Council launched its LDP Preferred Options Paper on the 29 May 2018, and it is now available for inspection and public comment. The Preferred Options Paper (POP) is the first of three public consulation documents that the Council will issue during the LDP process. Its publication marks the final stage of Stage 1 (Initial Plan Preparation) of the LDP process.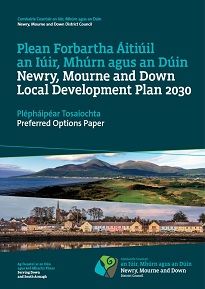 The POP is a consultation paper designed to stimulate debate and encourage feedback on key issues of strategic significance which are likely to influence the direction of the Council's new LDP. The POP outlines the vision and strategic objectives along with a set of key issues and associated options for addressing them. The Council's preferred options are indicated in the Paper along with a justification for each preferred option.
The consultation period for the POP will run for a period of 12 weeks from 1 June to 24 August 2018.
Your comments are invited on the options raised in the POP. Comments must be planning related and should be strategic in nature, as the Council will use the findings from the POP consultation exercise to inform the preparation of the draft Plan Strategy.
Comments may be submitted by email, preferably using the LDP POP Questionnaire Response Form, to: ldp@nmandd.org. Alternatively you can write to the Council at 'LDP:Preferred Options Paper, Development Plan Team, Council Offices, Downshire Civic Centre, Downshire Estate, Ardglass Road, Downpatrick BT30 6GQ.
Documentation
The POP document, Sustainability Appraisal Interim Report, Equality Impact Assessment Progress Report and other supporting documents are available below
Local Development Plan 2030 - POP
POP Questionnaire Response Form
Sustainability Appraisal Interim Report
Sustainability Appraisal Scoping Report
Equality Impact Assessment Progress Report
Prelimenary Review of Operational Planning Policy
Hard copies are available to view, during normal office hours, at the Council's planning offices in Downpatrick and Newry, at the following addresses:
Newry Office, O'Hagan House, Monaghan Row, Newry, BT35 8DJ
Downpatrick Office, Downshire Civic Centre, Downshire Estate, Ardglass Road, Downpatrick, BT30 6GQ
To ensure equality of opportunity in accessing information, copies of this POP document and the associated documents in alternative formats are available on request. Where the exact request cannot be met we will ensure a reasonable alternative is provided.
The Closing Date for receipt of comments is 5pm on Friday 24 August 2018
Drop-in Sessions
The Council is keen to hear the views of its residents, businesses, community and voluntary groups on its Local Development Plan Preferred Options Paper. There will be a number of public drop-in sessions across the District, during the consultation period, where interested parties can call in to discuss the POP with planning officers. Details of these sessions are listed below.
You are welcome to attend one of the following Drop-in Sessions:
Tuesday 5 June
Sean Hollywood Arts Centre, Newry

1.30pm-3.30pm

6.00pm-8.00pm

Wednesday 6 June

Crossmaglen Community Centre

Newtownhamilton Community Centre

1.30pm-3.30pm

6.00pm-8.00pm

Tuesday 12 June

Warrenpoint Town Hall

Hilltown Community Centre

1.30pm-3.30pm

6.00pm-8.00pm

Wednesday 13 June

The Lodge, Castlewellan

Market House, Ballynahinch

1.30pm-3.30pm

6.00pm-8.00pm

Thursday 14 June

Bridge Centre, Killyleagh

Rowallane Community Hub, Saintfield

1.30pm-3.30pm

6.00pm-8.00pm

Tuesday 19 June

Kilmorey Arms Hotel, Kilkeel

Newcastle Centre, Newcastle

1.30pm-3.30pm

6.00pm-8.00pm

Thursday 21 June
Down Arts Centre, Downpatrick

1.30pm-3.30pm

6.00pm-8.00pm
Contact Details
Email: planning@nmandd.org
Telephone: 0330 137 4036