Biodiversity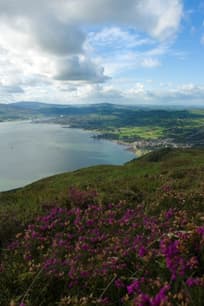 Biodiversity is the short term used for 'biological diversity". It means 'the total variety of all living plants and animals, and the habitats in which they live'. Biodiversity is a key measure of the health of our planet and therefore vital for our survival. We are part of biodiversity and depend on it for our quality of life.
Why is Biodiversity important?
Biodiversity touches every aspect of our lives. It not only provides the air that we breathe and the food that we eat; it also helps to create a pleasant environment for us to live in by adding variety to our surroundings.
We have lost some biodiversity because of modern practices . We need to work to look after what remains. By taking positive action we can protect and enhance it and even restore some of our biodiversity.
Newry, Mourne and Down District Council have a legal requirement to "further the conservation of biodiversity" where possible.
Newry, Mourne and Down Local Biodiversity Action Plan
To view the Newry, Mourne and Down Local Biodiversity Action Plan click here
RSPB's Big Garden Birdwatch
Watching birds visiting your garden can be a lovely way to relax, and in many cases can be more exciting than anything on the TV! More than half a million people from across the UK take part in the RSPB's Big Garden Birdwatch in January each year.The Big Garden Birdwatch is the world's largest wildlife survey andit could not be simpler for everytone to get involved in. All you need to do is spend one hour at any time over the last weekend in January noting the highest number of each bird species seen in your garden or local park, then report back your findings. Schools can take part too.
Find out more here: https://www.rspb.org.uk/fun-and-learning/for-teachers/schools-birdwatch/
Why not add to your survey by carrying out a simple activity for kids which will help feed our bird population. Click here for a guide to making an Apple Bird Feeder, using an apple and some sunflower seeds.
Contact Details
To find out more about Newry, Mourne and Down's biodiversity or to find out how you can get involved contact the Council's Biodiversity Officer:
Danielle Begley
Biodiversity Officer
0330 137 4024
danielle.begley@nmandd.org
Useful links
http://www.strangfordlough.org