Black Bin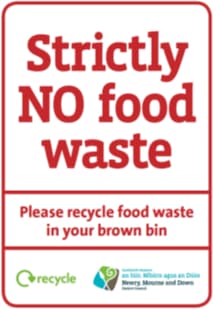 Black Bin
The black bin is for general waste that cannot be recycled in either the blue or brown bin. The Council encourages people to recycle as much as possible using the blue and brown bin recycling service.
You must use your brown bin for food waste. In the future black bins found to contain food waste may not be collected.
COVID-19 Update
We are currently collecting all domestic bins on your normal collection day, we just ask that they are out by 6am on the morning of collection. Please do not leave side waste or extra rubbish bags next to your bins, we can't collect them.
If you have suspected or confirmed coronavirus you must not put items such as used tissues, gloves or disposable cleaning cloths into your recycling bins. Before you put these items in your black waste bin, you should:
•double-bag them, tying the bags securely.
•keep them separate from other waste for 72 hours before putting them into your black waste bin for collection.
More government issued guidance can be found here: https://www.daera-ni.gov.uk/news/protect-and-respect-all-key-workers.
Visit the NI Direct at https://www.nidirect.gov.uk/campaigns/coronavirus-covid-19 for advice on coronavirus, including government services which may be affected.
Thank you for your co-operation in helping keep our district clean and safe.
Items that do not go into the black bin are as follows:
recyclables - for what should go in recycling bins please click here for further details
food waste - please click here for further details
DIY, building or construction waste (eg rubble, plasterboard) please click here for further details
bulky items please click here for further details
hazardous/special waste such as:
motor oil
motor vehicle batteries
Asbestos material
used paint
dead animals
soil and stones
garden waste - please recycle this at your local Household Recycling Centre
What can go in your black / general waste bin?
black plastic trays
nappies and other sanitary products
pet waste including small amounts of bagged cat litter and dog waste
plastic bags, film and food wrapping
plastic or padded envelopes
plastic pouches
plastic wrappers and plastic film
polystyrene cups, trays and protective packaging
shiny wrapping paper
wallpaper
wrappers
Contact Details
If you need any further information, please contact:
Waste Department Customer Services Section
Telephone: 0330 137 4047
Email: recycling@nmandd.org