Living Well Together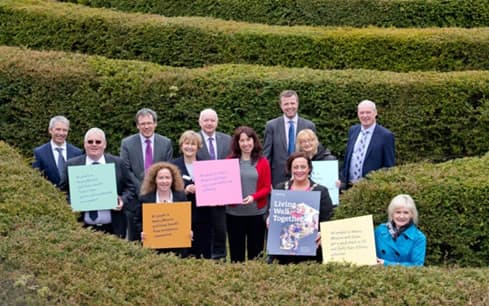 Download the plan here.
Community Planning is a process whereby councils, statutory bodies, and the community work together to develop and implement a shared vision for promoting the wellbeing of their area and pave the way for the most efficient use of scarce resources. Community Planning is everyone working together to make life better and deliver real improvements for local people. It means planning ahead to improve the big issues that matter to people like health, education, employment, safety and the environment.
If you would like to know more about Community Planning Legislation - 'Local Government Act (NI) 2014' click here.
Our Vision
"Newry, Mourne and Down is a place with strong, safe and vibrant communities where everyone has a good quality of life and access to opportunities, choices and high quality services which are sustainable, accessible and meet people's needs."
For the last two years we have listened to local people, community and voluntary sector organisations and statutory partners, analysed needs, priorities and opportunities and have developed our first ever Community Plan for this district.