Responsible Dog Ownership
Are you a responsible dog-owner?
Do you clean up after your dog?
Please keep our streets and open areas in the district clean from dog-poo, especially now during the current Coronavirus pandemic.
Dog mess is a nuisance and it's associated with various diseases including toxocara canis. Toxocara canis is a roundworm found in dogs. Roundworm eggs are found in dog mess, which can easily be picked up by young children. This causes stomach upsets, sore throats, asthma and in rare cases blindness. The eggs can stay active in the soil for many years, long after the dog mess has weathered away. Dog owners should clean up after their dog in public places. Always carry a poop scoop or a dog waste bag to carry the mess to a bin.
What the Council Can do to Address This Issue
If you let your dog foul a public place, Newry, Mourne and Down Council's authorised officers can issue you with a fixed penalty fine of £80.
If you refuse to pay the fine, the Council could pursue court legal proceedings which could result in a fine up to £1,000 for dog fouling related offences.
To report any problem with Dog Fouling in your area, please call 0330 137 4047 or via email: ehealth@nmandd.org and a member of our Enforcement Team will be in contact

Council's New Advertising Campaign to Tackle Dog Fouling
Newry, Mourne and Down District Council is currently working in partnership with Keep Northern Ireland Beautiful on a new public awareness campaign to tackle the issue of dog fouling in our district.

The 'That Is Disgustin!' campaign has been developed by Live Here, Love Here in 2021 and we have relaunched this campaign again in 2022. Through partnership working and 'one voice' messaging across a strong variety of media channels such as social media, online adverts and PR this campaign aims to build strong relationships with residents. The puppet character delivers memorable messages in relation to 'dog fouling and fixed penalties' and appeals to all age ranges, raising awareness and driving the behaviour change we all need in our communities.
Responsible Dog Ownership
If you are walking your dog, please remember: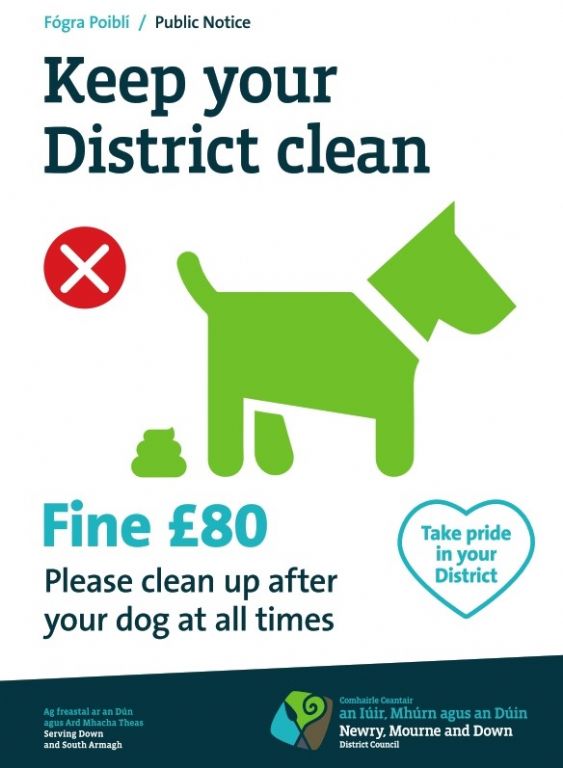 avoid large gatherings
maintain social distancing
please take litter and dog-foul home.
Newry, Mourne and Down District Council seeks to promote and encourage responsible dog ownership.
What Responsible Dog Ownership Means
Dog ownership requires significant commitment of the owner's time and energy as well as appreciation that dogs need to be exercised, trained, provided with mental stimulation and socialised.
Responsible dog ownership also means that your dog must be under control at all times and that you should clean-up after it.
Controlling Your Dog in Public
If you are the person in charge of a dog, then you are responsible for controlling the dog's behaviour in public.
If you or the dog owner need help with dog training, you should contact a dog trainer.
When a Dog is 'Under Control'?
A dog is considered 'under control' if it is on a lead held by someone able to control the dog.
For example, a large dog would not be under control if its lead was held by a child who would be unable to restrain the dog if it strained against the lead.
Dogs off leads are not under control and this is an offence under NI legislation. Dogs off leads can also lead to attacks and may also lead to a prosecution.
It isn't necessary for dogs to be leashed at all times. However, dogs must be kept on a lead in designated pedestrian zones and on land where livestock is present.
Newry, Mourne and Down District Council have bye-laws to show the areas where leashing is required, such as in public parks and open spaces i.e. promenades
Check List for Responsible Dog Owners
Legal requirements:
A dog must be licensed and microchipped
A dog must wear a collar with a name/ID tag
Owner must clean up any dog mess deposited by their dog
Other Requirements
A dog has regular meals and is exercised regularly as part of a daily routine
Owner carries and uses 'dog-waste bags' and makes sure these are placed into an appropriate bin
A dog is vaccinated and free of fleas, ticks and worms
A dog understands the 5 basic commands: SIT, STAY, DOWN, COME, HEEL
A dog is neutered
A dog has a dog bed that is clean and dry.

Associated Legislation

Useful Links

Contact Us
For further information please contact our Waste and Enforcement Department on 0330 137 4047 or email: ehealth@nmandd.org
Downloads
Dogs Trust Bag It Bin It Flyer