Chair Hosts Reception for Race Around Ireland Cyclists
Newry, Mourne and Down District Council Chairperson, Councillor Naomi Bailie hosted a reception recently to honour the achievements of Rowan McMahon and Barry Tinnelly from Rostrevor cycling group, The Rossi, who won the two person category at the 2015 Race Around Ireland.
As first Citizen of the district, Councillor Bailie expressed her pride and awe at the cyclists' achievement saying, "To win this event is exceptional but to break the previous record by almost 10 hours, setting a new average speed record of 17.18 miles per hour for the entire 1,350 mile event, is an achievement of Olympian proportions, even for elite athletes such as Barry and Rowan."
Cllr Bailie commended the cyclists on the hard work and commitment they put into their gruelling training schedules to achieve such a win. She also paid tribute to their families and crew of seven who assisted them in the race and further commented, "Newry, Mourne and Down District Council has, as one of its strategic objectives, the support of improved health and wellbeing outcomes, something which groups like The Rossi, which promote the benefits of cycling, can assist the Council in achieving". She also noted that the district is renowned for its scenic beauty, with excellent connectivity, and another of Council's strategic objectives is to become one of the premier tourist destinations on the island of Ireland, adding that cycling tourism would play an important role in helping to fulfil this aim."
Cllr Bailie also referred to the fundraising which Barry and Rowan, together with the Rossi members, have undertaken in aid of the Killowen Fundraising Group for Duchenne Muscular Dystrophy, raising almost £19,000 for this Charity in 2015 through their cycling initiatives. She thanked the Club for their efforts on behalf of some of the most vulnerable and important people in the district.
Cllr Bailie presented the cyclists with engraved crystal bowls on the Council, following which she hosted refreshments and took the opportunity to speak informally with the cyclists, their families, mentors and supporters.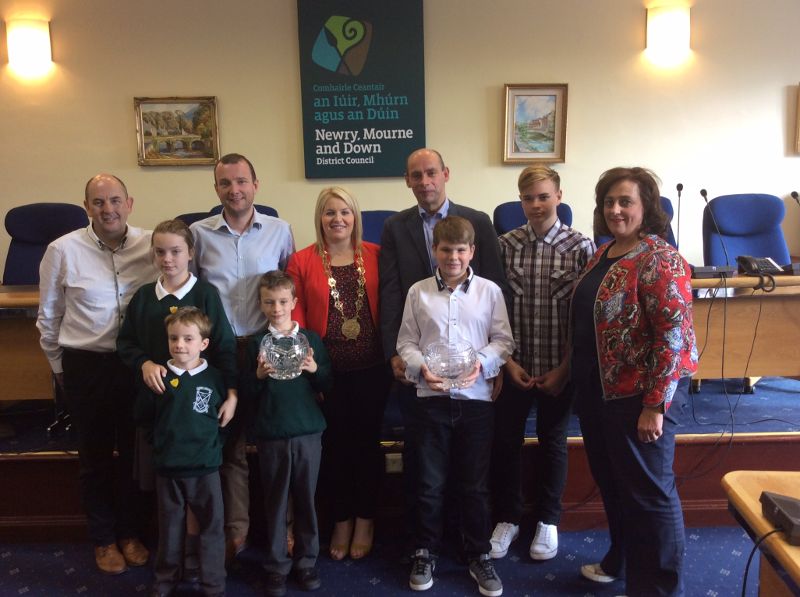 Newry, Mourne and Down District Council Chairperson, Cllr Naomi Bailie along with Vice Chair, Cllr Gillian Fitzpatrick welcomed Rowan McMahon, Barry Tinnelly and their families to the Council's Newry Office to recognise their achievement at the 2015 Race Around Ireland competition.
Back