Lateral Flow Testing
COVID-19 Testing Programme for Businesses
Local employers have a vital role to play in minimising the spread of infection of COVID-19 among those who cannot work from home by introducing regular testing to identify asymptomatic cases within their workforce. The Council is working directly with the Department of Health NI to support a COVID-19 Testing Programme for local businesses.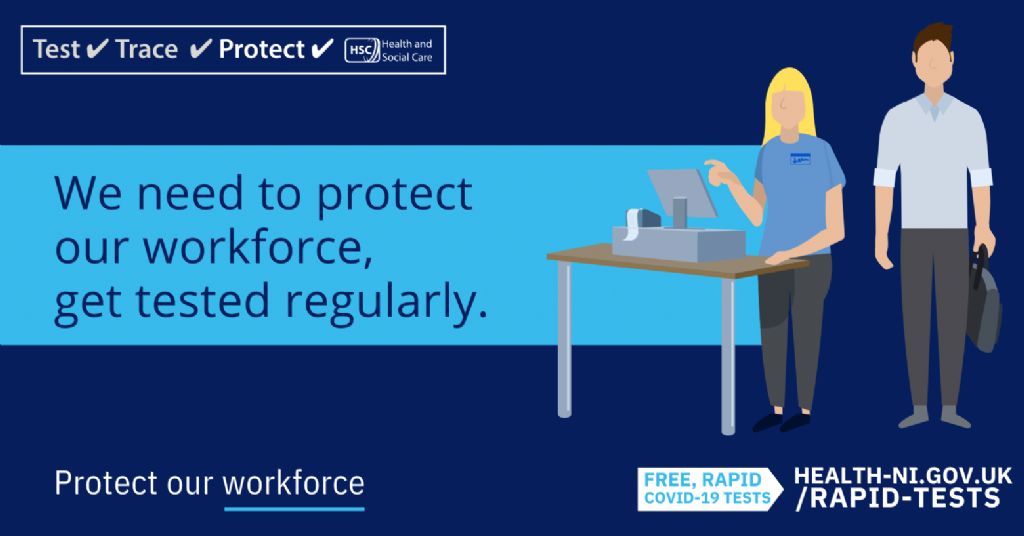 Rapid Asymptomatic Testing Programme for Workforces:
All organisations with 10 or more employees or volunteers who cannot work from home are now able to access the workforce asymptomatic testing programme.
Provision has been made to enable small businesses or organisations with 10 or less employees who cannot work from home to access rapid Lateral Flow Devices (LFD) tests. The range of options will be expanding but currently includes a Lateral Flow Devices (LFD) Collect service from Local Testing Sites and a Home Delivery service.
The following locations within the district are distributing COVID-19 Lateral Flow Devices (LFD) Test Kits for local employers:
Ballymote Sports and Wellbeing Centre
Telephone: 0330 137 4026
Hours of Operation: Monday - Friday (9.15am
–
9.45pm)
Ballynahinch Market House
Telephone: 0330 137 4008
Hours of Operation: Thursday (10am – 3pm)
Council Offices, Downshire Civic Centre, Downpatrick
Telephone: 0330 137 4000
Hours of Operation: Monday – Friday (9am – 5pm)
Council Offices, Monaghan Row, Newry
Telephone: 0330 137 4000
Hours of Operation: Monday – Friday (9am – 5pm)
Crossmaglen Community Centre
Telephone: 0330 137 4008
Hours of Operation: Friday (10am – 5pm)
Kilkeel Leisure Centre
Telephone: 0330 137 4026
Hours of Operation: Monday – Friday (9am – 5pm), Saturday (9am – 4pm)
Newcastle Centre
Telephone: 0330 137 4026
Hours of Operation: Monday, Wednesday and Friday (9am – 5pm)
Saturday (9am – 4pm)
Sunday (2pm – 5pm)
Warrenpoint Town Hall
Telephone: 0330 137 4926
Hours of Operation: Wednesday (9am – 3pm)
Organisations wanting to introduce workforce testing should submit an expression of interest via the following link:
For further information on the Rapid Asymptomatic Testing Programme for workforces please visit: