Chairperson's Be Active Cup

Senior Cup
Launched by Chairman, Councillor Mark Murnin, this is a new football tournament which will bring sixteen teams from different leagues across the district together to compete for the Chairperson's Be Active Cup
The venues for the games will be:
Jennings Park Newry
Kilmore Playing fields, Crossgar
Newry Showgrounds - Finals, hosted by Newry City Football Club
The tournament starts on 23 July and finishes on 1 August. Please click here for Fixtures.
Rules and Regulations
All games will be played as per IFA Rules and Regulations. Only players registered as Amateur status can play within this competition.
In event of a draw, extra time 10 minutes each way and penalties will be played.
All Referees will be appointed by the Council through the leagues.
All teams must play in Club colours as per IFA Regulations. In the event of two teams playing who have the same or similar strip colours the first team drawn in each game will be regarded as the home team therefore play in their home colours. The other team must make arrangements to strip out in alternative colours.
All participating clubs, officials and supporters must follow the Code of Conduct of their own club and must abide by the guidelines set out by IFA Regulations.
All games will be played at Jennings Park 1 & 2, Kilmore Playing Fields 1 & 2 and the final at the Showgrounds Newry City FC. Players must be available to commence play and for inspection by the Referee 15 minutes prior to kick off at 7.00pm for all matches.
Club's must have their own individual sports injury insurance and must organise their own transport. They must also cover their own transportation costs for the tournament.
Confirm Club colours with NMDDC prior to matches. Email leisureandsport@nmandd.org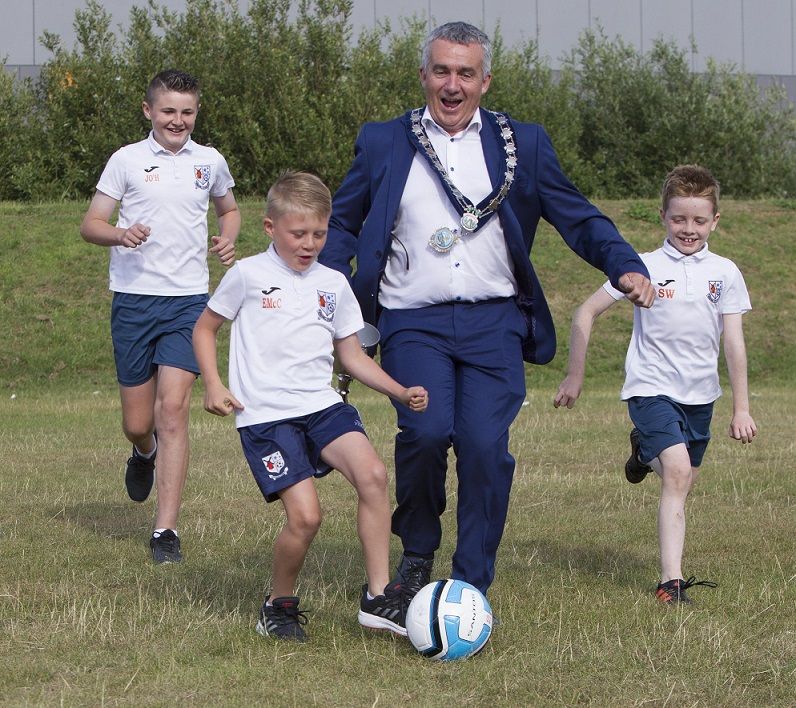 Junior Cup
As part of its Community Fun Day at Tollymore Football Club, Newcastle on 29 July, the Irish Football Association (IFA) Grass Roots Programme will run a mini football competition.
From this competition they will identify two teams, one which will represent legacy Newry and Mourne District Council and the other to represent legacy Down District Council; these teams will play each other for the Junior Be Active Trophy before the Senior final on 1 August at Newry Showgrounds.
Special Olympics Team
Newry City Special Olympics team, which had tremendous success at the 2018 Special Olympics Ireland Games held recently in Dublin, will be mascots at the final and will display their talents with an interval match at half time.